This post and/or page contains affiliate links, at no additional cost
to you I am compensated only if you purchase after clicking on the links.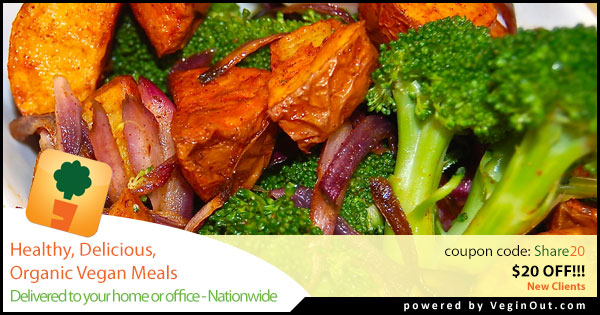 | | |
| --- | --- |
| | "Established in 2008, Vegin' Out, is a Los Angeles based weekly vegan meal delivery service offering delicious organic healthy plant-based vegan meals to Los Angeles, Southern California, Northern California and Nationwide at an affordable price. Our healthy and delicious vegan meals are freshly prepared and cooked and delivered to customers' homes or offices every Monday for LA clients and shipped on Monday for SoCal, NorCal, Arizona and nationwide clients. Each Vegin' Out vegan dish is low fat (sometimes oil-free), cholesterol free, trans-fat free, dairy free, cruelty free, preservatives free, prepared with organic produce. All vegan dishes are fully cooked. All you have to do is to heat up the delicious vegan dishes and enjoy! We take the guesswork out of preparing and cooking vegan food. We will also accommodate as much as we are able to your special dietary request such as gluten free, soy free, nut free and other types of allergy free. All of our vegan dishes come with nutritional information that are available on our website by clicking on the name of the dishes. We have a variety of weekly menus that we rotate to keep our vegan meal service flavors interesting. We know that working long hours sometimes force us to pick-up unhealthy fast food. Eating healthy does not have to be difficult, tasteless, expensive and cumbersome. We do all the shopping, prepping and cooking for you. We prepare, cook and deliver or ship our vegan meals straight to your home or your office or wherever you may be so you can focus on your work or recovering from illness or travels. Our goal is to provide healthy and delicious vegan meals without all the additives, preservatives and oil (most of the time) and low sodium, not only at an affordable price but also convenient. All orders come in an insulated container (a bag or box). So you do not need to be home waiting for your order to arrive making your day more efficient. We blanch, bake or boil our ingredients - never fry! Our mission is to help and make it easy for anyone who is interested in eating healthy and promote healthy living. We also develop a 5-Day Vegan Soups & Juice Cleanse to help with individuals who are interested in weight loss. Our vegan cleanse menu is a collaboration with an internal medicine physician and a certified wellness practitioner who works are the USC Keck Hospital in Los Angeles." |
This post and/or page contains affiliate links,
​at no additional cost to you I am compensated
​only if you purchase after clicking on the links.

"For over three decades, LobsterAnywhere.com has provided live Maine lobsters and premium seafood to white tablecloth restaurants, hotels, and large institutions throughout the United States. We have established an unparalleled reputation for serving customers with discerning taste. If you want live Maine lobsters, and fresh seafood delivered overnight for your business or special event, you can count on LobsterAnywhere.com to deliver."
| | |
| --- | --- |
| | "In 2002, a group of classically trained and talented Chefs found themselves as Executive Chefs in kitchens across the country. While creating their menus and gourmet specials it became obvious that certain quality products they had found in specific regions of the country and around the world were not always available to them. They quickly began to realize the value of getting the best, freshest and origin specific gourmet products to their kitchens and more importantly, to their customers. That need and passion for the freshest and finest gourmet products evolved into our sister company, Food Innovations. To this day Food Innovations services many of the top and well known chefs, restaurants and establishments in the country. Over the course of time we were contacted by many home foodies and gourmands to find out how they too could get these high quality restaurant products into their home kitchens, creating the demand for For The Gourmet an e-commerce website where you can order chef quality products for the gourmet in your home. As Chefs we are taught in culinary school that in order to create great dishes it starts with quality ingredients! For The Gourmet is a Chef-driven Chef operated company, dedicated to sourcing the best specialty products from around the world, and delivering them right to your doorstep. Our product lines are continually expanding to represent the finest foods available. We work with artisanal producers and growers of the finest food products and ingredients, we offer a variety of fresh produce, proteins, gourmet prepared foods, specialty ingredients and artisanal creations." |
~ClassicShoppes.us~Where Class & Distinction Shops~